John Peekstok
Multi-instrumentalist
Traditional Folk, Medieval, Blues, Rock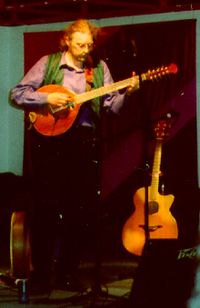 I started playing percussion, apparently, before I can remember. I beat out rhythms on anything that would make noise, using my hands, pencils, spoons, sticks, anything I could pick up. I finally got some formal training in my early teens and played percussion in my high school band. About the same time, I taught myself to play the piano by listening to blues songs and finding the scales and chords on the keyboard. I played keyboards and/or drums in rock, blues, and jazz fusion bands throughout high school and college. My first pro gig was at age fifteen, playing organ in a pop rock band. After moving to Seattle at age 21, I played mostly solo piano, doing blues, light jazz and improvisational New Age-ish stuff.
Somewhere along the line I picked up an old Gibson jazz guitar and learned some basic chords. In my early 20s, I had a girlfriend who was starting a folk band and asked me to come play with them. That band did mostly folk music from the British Isles, and that's where I developed my life-long love of traditional music. I soon picked up the mandolin and Celtic harp and ended up directing an amateur early music ensemble, playing medieval and Renaissance music on harp, cittern, and percussion.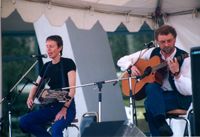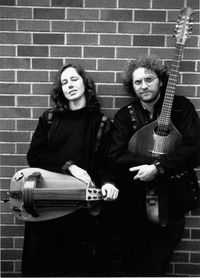 Telynor
Singer and multi-instrumentalist Anna Clemenger joined that group and, amazingly, we discovered a shared love of some disparate types of music: blues, medieval, European traditional folk, Jethro Tull, Led Zeppelin, and Appalachian music. We eventually left that group to play professionally, and to fuse all those types of music into a distinctive sound. The result was the duet Telynor; we played together for almost twenty years and recorded four albums, Telynor, Telynor 2, Off the Beaten Path, and Sprig of Thyme. We were sort of the "funny instrument" band; we'd show up at gigs with four or five instruments each – guitars, citterns, hurdy-gurdy, nyckelharpa, fiddle, Celtic harp, Appalachian dulcimer, and various wind and percussion instruments. Over the years we explored (and fused together) English, French, Breton, Scottish, Appalachian, Bulgarian, medieval, and blues, playing it all with an acoustic rock sensibility.
Next came Crookshank, a large folk-rock band playing traditional music from all over Europe. We recorded one album, Crookshank. With Davy Axtel on guitar, flute, and vocals, Beth Kollé singing and playing flute, Sarah Funk on fiddle and voice, Pete Glass on bass, and Scott Mercado playing d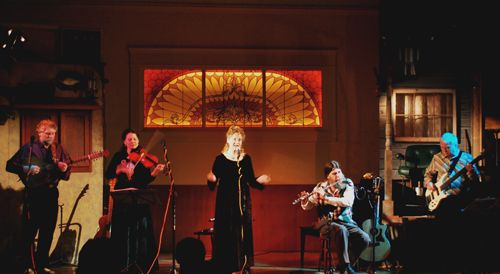 rums, plus me playing guitar and cittern, we were able to produce a big, rich sound.
In 2006, Crookshank bandmate Beth Kollé led a group of harp players from the US and Canada on a tour through Norway and Sweden. I went along and fell in love with Swedish music. After coming home, I went to a Swedish jam in Seattle where I got to play with Bart Brashers, whose nyckelharpa playing I had admired for years. It turns out that he was just getting back to performing after a few years of baby break, and he asked me to get together and play some tunes. We liked the results, and recruited nyckelharpist Anna Abraham to join us in forming Mäd Fiddlu. I've been playing Swedish music ever since.
In 2012 I met Swedish fiddler Irene Myers and we started getting together to improvise and compose dance tunes. We do Swedish traditional tunes, some of them from Sweden, some original, and some purely improvised. We released the album Sommarstormen in 2016.
Going in a different direction, in 2018 I started playing electric lead guitar with singer/songwriter Laurie Lyons. It's power pop with thought-provoking lyrics and great hooks. You can hear a few of her songs here.
Throughout the years, I've taught workshops at several music camps, with subjects including medieval music, arranging, improvisation, odd time signatures, harp, cittern, percussion, and accompaniment. I've performed at the Northwest Folklife Festival every year since 1981. In 1996 I recorded a five-song EP called Origin and in 2000 an album of improvisational harp music called Sunlight and Shadow. I was one of the founders of the Camlann Medieval Fair, did a two-year stint as the board president and camp director for the Over-the-Water Hurdy-Gurdy Association and have worked for many years as the general manager of Dusty Strings, a company that manufactures harps and hammered dulcimers and operates a large acoustic music store in Seattle.
When I'm not performing with a band I play drums every chance I get, play blues and and other improvisations on the piano, and jam with my friends on almost any type of music. I take a lot of photos, read extensively, and putter about in my flower gardens.